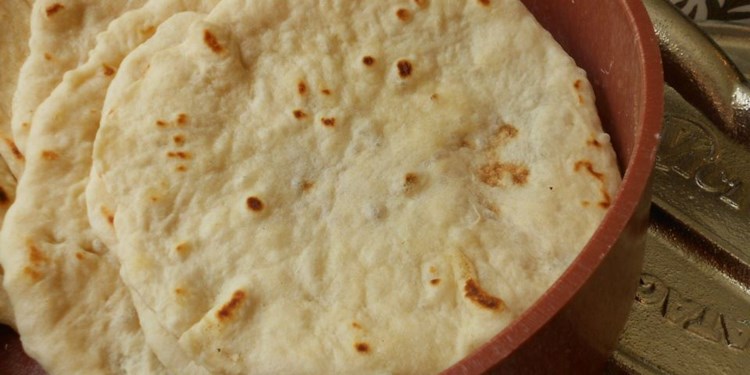 Homemade Flour Tortillas
"Traditional flour tortillas - homemade and much better than store bought. Do not substitute vegetable oil or shortening for the lard."
Prep time: 15 Minutes
Cook time: 45 Minutes
Ready in 1 Hour
Ingredients
4 cups all-purpose flour
1 teaspoon salt
2 teaspoons baking powder
2 tablespoons lard
1 1/2 cups water
Directions
Whisk the flour, salt, and baking powder together in a mixing bowl. Mix in the lard with your fingers until the flour resembles cornmeal. Add the water and mix until the dough comes together; place on a lightly floured surface and knead a few minutes until smooth and elastic. Divide the dough into 24 equal pieces and roll each piece into a ball.
Preheat a large skillet over medium-high heat. Use a well-floured rolling pin to roll a dough ball into a thin, round tortilla. Place into the hot skillet, and cook until bubbly and golden; flip and continue cooking until golden on the other side. Place the cooked tortilla in a tortilla warmer; continue rolling and cooking the remaining dough.
Nutritional Information
Total Fat: : 1.3g
Saturated Fat: : 1.3g
Sodium: : 1.3g
Potassium: : 1.3g
Total Carbohydrates: : 1.3g
Dietary Fiber: : 1.3g
Protein: : 1.3g
Sugars: : 1.3g
Vitamin C: : 1.3g
Iron: : 1.3g
Niacin: : 1.3g
Magnesium: : 1.3g
Footnotes
Partner Tip

Reynolds® Aluminum foil can be used to keep food moist, cook it evenly, and make clean-up easier.