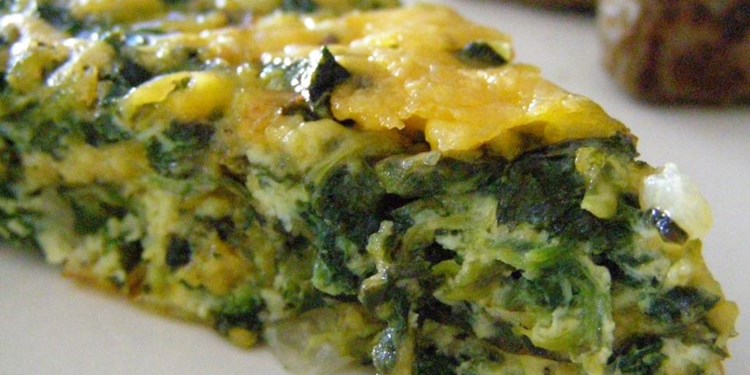 Crustless Spinach Quiche
"I serve this in the summer for brunch with a side of sausage links and a fresh fruit bowl!"
Prep time: 20 Minutes
Cook time: 30 Minutes
Ready in 50 Minutes
Ingredients
1 tablespoon vegetable oil
1 onion, chopped
1 (10 ounce) package frozen chopped spinach, thawed and drained
5 eggs, beaten
3 cups shredded Muenster cheese
1/4 teaspoon salt
1/8 teaspoon ground black pepper
Directions
Preheat oven to 350 degrees F (175 degrees C). Lightly grease a 9 inch pie pan.
Heat oil in a large skillet over medium-high heat. Add onions and cook, stirring occasionally, until onions are soft. Stir in spinach and continue cooking until excess moisture has evaporated.
In a large bowl, combine eggs, cheese, salt and pepper. Add spinach mixture and stir to blend. Scoop into prepared pie pan.
Bake in preheated oven until eggs have set, about 30 minutes. Let cool for 10 minutes before serving.
Nutritional Information
Total Fat: : 23.7g
Saturated Fat: : 23.7g
Sodium: : 23.7g
Potassium: : 23.7g
Total Carbohydrates: : 23.7g
Dietary Fiber: : 23.7g
Protein: : 23.7g
Sugars: : 23.7g
Vitamin C: : 23.7g
Iron: : 23.7g
Niacin: : 23.7g
Magnesium: : 23.7g
Footnotes
Partner Tip

Reynolds® Aluminum foil can be used to keep food moist, cook it evenly, and make clean-up easier.