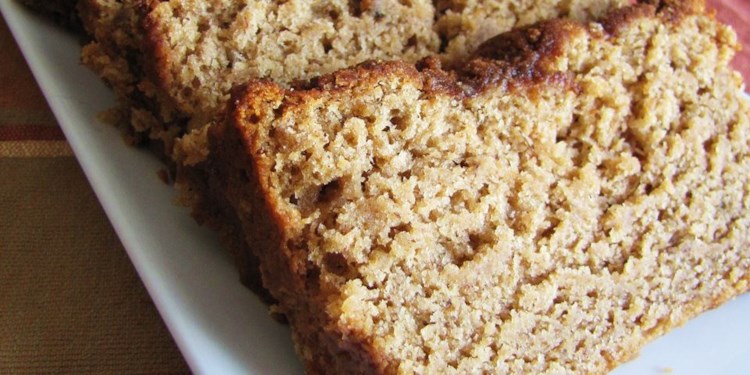 Brown Sugar Banana Bread
"Brown sugar and cinnamon add depth to this moist, sweet bread. The perfect present for friends and loved ones!"
Prep time: 15 Minutes
Cook time: 40 Minutes
Ready in 55 Minutes
Ingredients
4 ripe bananas, cut into chunks
1 1/4 cups light brown sugar
1/2 cup butter, softened
1 egg
1 teaspoon cinnamon
1 teaspoon vanilla extract
1/4 cup whole milk
2 cups all-purpose flour
1/2 teaspoon baking soda
1 teaspoon baking powder
1/2 teaspoon kosher salt
Directions
Preheat oven to 350 degrees F (175 degrees C). Grease a 9x5-inch loaf pan.
Place the bananas into a large plastic zipper bag, seal the bag, and smoosh the bananas with your fingers until very well mashed. Set the bananas aside. Place the brown sugar and butter into a mixing bowl, and mix on medium speed with an electric mixer until light and fluffy, 1 to 2 minutes. Cut a corner from the plastic bag, and squeeze the mashed bananas into the bowl of brown sugar mixture. With the electric mixer on medium speed, beat in the bananas, egg, cinnamon, vanilla extract, and milk until the mixture is well combined. Switch the mixer to low speed, and gradually beat in the flour, baking soda, baking powder, and kosher salt just until the batter is smooth, about 1 minute. Spread the batter into the prepared loaf pan.
Bake in the preheated oven until the bread is set and lightly browned on top, about 40 minutes. A toothpick inserted into the center of the loaf should come out clean.
Nutritional Information
Total Fat: : 12.9g
Saturated Fat: : 12.9g
Sodium: : 12.9g
Potassium: : 12.9g
Total Carbohydrates: : 12.9g
Dietary Fiber: : 12.9g
Protein: : 12.9g
Sugars: : 12.9g
Vitamin C: : 12.9g
Iron: : 12.9g
Niacin: : 12.9g
Magnesium: : 12.9g
Footnotes
Partner Tip

Reynolds® Aluminum foil can be used to keep food moist, cook it evenly, and make clean-up easier.