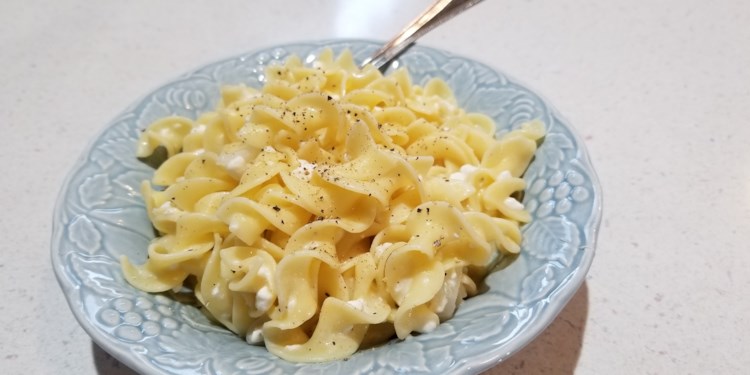 Polish Noodles (Cottage Cheese and Noodles)
"This simple recipe came from the Polish side of my family. We simply called it 'cottage cheese and noodles' or 'lazy man pierogies.' It's a great comfort food and can be made with any kind of noodle. It could be a side dish, but we always enjoyed it as a meal."
Prep time: 10 Minutes
Cook time: 20 Minutes
Ready in 30 Minutes
Ingredients
1/2 cup butter
1 small onion, diced
1 (16 ounce) package egg noodles
1 (16 ounce) package cottage cheese
1/2 cup sour cream
1/2 teaspoon sea salt
1/4 teaspoon ground black pepper
Directions
Melt butter in a saucepan over medium heat. Cook and stir onion in melted butter until softened, 7 to 10 minutes.
Bring a large pot of lightly salted water to a boil. Cook egg noodles in the boiling water, stirring occasionally until cooked through but firm to the bite, about 5 minutes. Drain and return to the pot.
Stir butter and onion mixture, cottage cheese, sour cream, sea salt, and black pepper into the noodles. Place the pot over medium heat; cook and stir until heated through and warm, 5 to 8 minutes.
Nutritional Information
Total Fat: : 26.1g
Saturated Fat: : 26.1g
Sodium: : 26.1g
Potassium: : 26.1g
Total Carbohydrates: : 26.1g
Dietary Fiber: : 26.1g
Protein: : 26.1g
Sugars: : 26.1g
Vitamin C: : 26.1g
Iron: : 26.1g
Niacin: : 26.1g
Magnesium: : 26.1g
Footnotes
Partner Tip

Reynolds® Aluminum foil can be used to keep food moist, cook it evenly, and make clean-up easier.