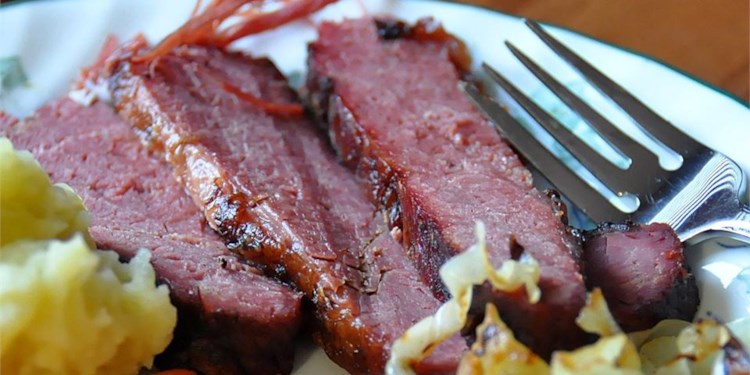 Braised Corned Beef Brisket
"You have never had corned beef like this and if you try it, I truly believe you will never go back to the traditionally 'boiled' beef. This recipe was given to my mother-in-law during WWII by her Jewish boarding house owner and it has become a treasured family recipe. Unlike the commonly boiled corned beef, this is a slow braise that is tender, flavorful, and has a caramelized surface when it's done. I serve it with colcannon, steamed cabbage wedges, braised carrots, and parsnips. It is our favorite St. Patrick's/Jewish dinner, but we love it so much that I cook it year around."
Prep time: 15 Minutes
Cook time: 6 Hours 15 Minutes
Ready in 6 Hours 30 Minutes
Ingredients
1 (5 pound) flat-cut corned beef brisket
1 tablespoon browning sauce (such as Kitchen Bouquet®), or as desired
1 tablespoon vegetable oil
1 onion, sliced
6 cloves garlic, sliced
2 tablespoons water
Directions
Preheat oven to 275 degrees F (135 degrees C).
Discard any flavoring packet from corned beef. Brush brisket with browning sauce on both sides. Heat vegetable oil in a large skillet over medium-high heat and brown brisket on both sides in the hot oil, 5 to 8 minutes per side.
Place brisket on a rack set in a roasting pan. Scatter onion and garlic slices over brisket and add water to roasting pan. Cover pan tightly with aluminum foil.
Roast in the preheated oven until meat is tender, about 6 hours.
Nutritional Information
Total Fat: : 33.7g
Saturated Fat: : 33.7g
Sodium: : 33.7g
Potassium: : 33.7g
Total Carbohydrates: : 33.7g
Dietary Fiber: : 33.7g
Protein: : 33.7g
Sugars: : 33.7g
Vitamin C: : 33.7g
Iron: : 33.7g
Niacin: : 33.7g
Magnesium: : 33.7g
Footnotes
Partner Tip

Reynolds® Aluminum foil can be used to keep food moist, cook it evenly, and make clean-up easier.