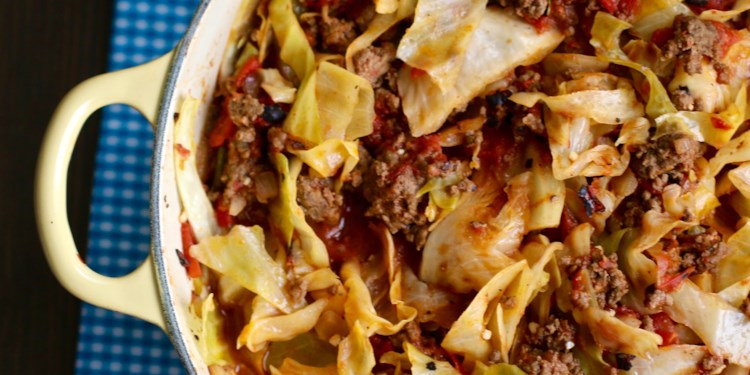 Unstuffed Cabbage Roll
"This is a quick and easy main dish. My kids don't even like cabbage, but they love this. I usually try to serve it with green beans, new potatoes, corn, and a pan of corn bread. They eat over half the pan every time. Also, the longer it stands the better it tastes."
Prep time: 20 Minutes
Cook time: 35 Minutes
Ready in 55 Minutes
Ingredients
2 pounds ground beef
1 large onion, chopped
1 small head cabbage, chopped
2 (14.5 ounce) cans diced tomatoes
1 (8 ounce) can tomato sauce
1/2 cup water
2 cloves garlic, minced
2 teaspoons salt
1 teaspoon ground black pepper
Directions
Heat a Dutch oven or large skillet over medium-high heat. Cook and stir beef and onion in the hot Dutch oven until browned and crumbly, 5 to 7 minutes; drain and discard grease. Add cabbage, tomatoes, tomato sauce, water, garlic, salt, and pepper and bring to a boil. Cover Dutch oven, reduce heat, and simmer until cabbage is tender, about 30 minutes.
Nutritional Information
Total Fat: : 23.8g
Saturated Fat: : 23.8g
Sodium: : 23.8g
Potassium: : 23.8g
Total Carbohydrates: : 23.8g
Dietary Fiber: : 23.8g
Protein: : 23.8g
Sugars: : 23.8g
Vitamin C: : 23.8g
Iron: : 23.8g
Niacin: : 23.8g
Magnesium: : 23.8g
Footnotes
Partner Tip

Reynolds® Aluminum foil can be used to keep food moist, cook it evenly, and make clean-up easier.