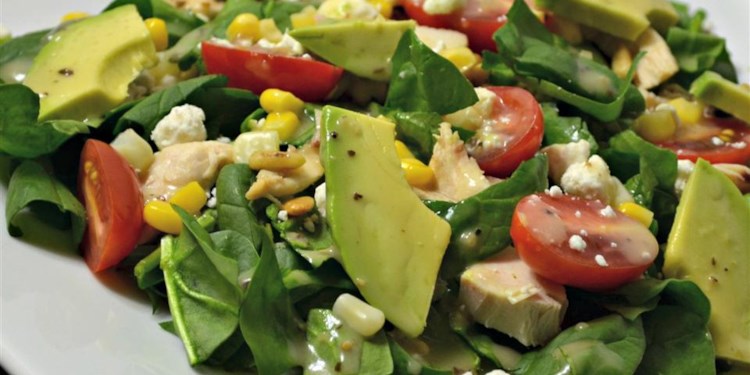 Spinach Salad with Chicken, Avocado, and Goat Cheese
"Great salad with chicken, avocado, and goat cheese."
Prep time: 20 Minutes
Ready in 20 Minutes
Ingredients
Salad:
1/4 cup pine nuts
8 cups chopped spinach
1 cup halved cherry tomatoes
1 1/2 cups chopped cooked chicken
1 large avocado - peeled, pitted, and sliced
1/2 cup corn kernels
1/3 cup crumbled goat cheese
Salad Dressing:
3 tablespoons white wine vinegar
2 tablespoons extra-virgin olive oil
1 tablespoon Dijon mustard
1 pinch salt and ground black pepper to taste
Directions
Heat a small skillet over medium-high heat. Toast pine nuts in hot skillet until lightly browned and fragrant, 3 to 5 minutes.
Put spinach into a large salad bowl; top with pine nuts, tomatoes, chicken, avocado, corn kernels, and goat cheese.
Beat white wine vinegar, olive oil, and Dijon mustard together in a small bowl until smooth; season with salt and pepper. Drizzle dressing over the salad and toss lightly to coat.
Nutritional Information
Total Fat: : 31.8g
Saturated Fat: : 31.8g
Sodium: : 31.8g
Potassium: : 31.8g
Total Carbohydrates: : 31.8g
Dietary Fiber: : 31.8g
Protein: : 31.8g
Sugars: : 31.8g
Vitamin C: : 31.8g
Iron: : 31.8g
Niacin: : 31.8g
Magnesium: : 31.8g
Footnotes
Cook's Notes:

Feta cheese can be used in place of goat cheese.
You can use fresh, canned, or frozen corn kernels.
Depending on your personal tastes, you may find you prefer less than the full amount of dressing on your salad. Add a little at a time until you're happy with it.