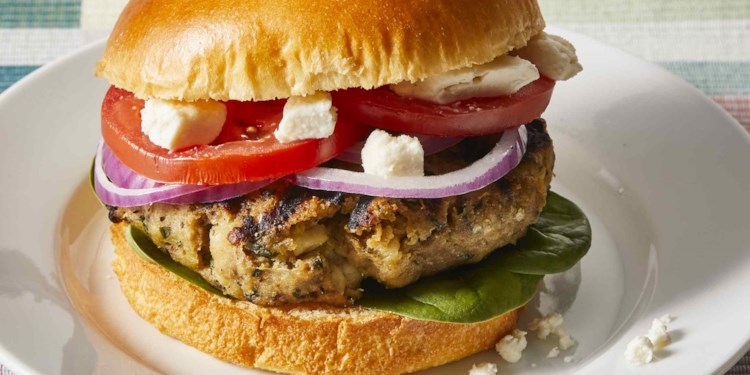 Greek Turkey Burgers
"A low-fat and very tasty option for summer grilling/broiling."
Prep time: 15 Minutes
Cook time: 10 Minutes
Ready in 25 Minutes
Ingredients
2 pounds ground turkey
1 1/2 cups fresh bread crumbs
1 1/2 cups chopped baby spinach
1/2 cup light Greek dressing
5 ounces feta cheese, cubed
1/4 large onion, finely chopped
1 egg
salt and ground black pepper to taste
Directions
Preheat an outdoor grill for medium-high heat and lightly oil the grate.
Combine turkey, bread crumbs, spinach, Greek dressing, feta cheese, onion, egg, salt, and black pepper together in a bowl; form into patties.
Cook turkey burgers on preheated grill until no longer pink in the center and the juices run clear, 5 to 10 minutes per side. An instant-read thermometer inserted into the center should read at least 165 degrees F (74 degrees C).
Nutritional Information
Total Fat: : 16.3g
Saturated Fat: : 16.3g
Sodium: : 16.3g
Potassium: : 16.3g
Total Carbohydrates: : 16.3g
Dietary Fiber: : 16.3g
Protein: : 16.3g
Sugars: : 16.3g
Vitamin C: : 16.3g
Iron: : 16.3g
Niacin: : 16.3g
Magnesium: : 16.3g
Footnotes
Cook's Note:

I found that chopping the spinach and the onion (separately) in a food processor gave the burgers a smooth consistency.

Partner Tip

Reynolds® parchment can be used for easier cleanup/removal from the pan.