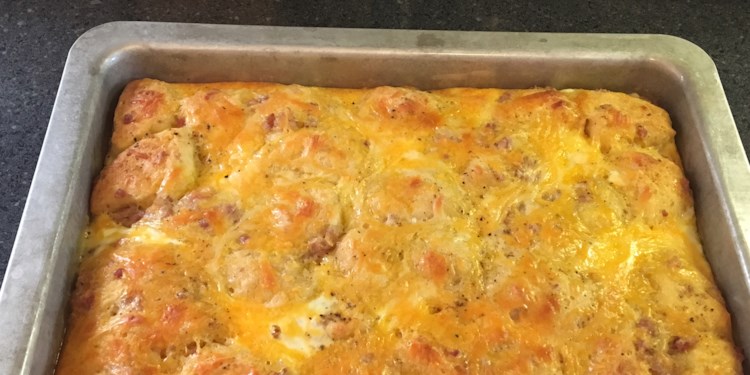 Biscuits and Gravy Casserole
"I got this recipe at a church potluck. All the flavors blend really well. I've made it for breakfast, lunch, and dinner. So far every time I've served it, I haven't had any leftovers. Enjoy!"
Prep time: 10 Minutes
Cook time: 35 Minutes
Ready in 45 Minutes
Ingredients
1 (10 ounce) can refrigerated biscuit dough (such as Pillsbury Grands!®)
1 (1 pound) bulk pork sausage
1 1/2 cups shredded Cheddar cheese, divided
6 eggs
1/2 cup milk
salt and ground black pepper to taste
1 1/2 cups cold water, or more as needed
1 (1.5 ounce) package pork gravy mix
Directions
Preheat oven to 350 degrees F (175 degrees C). Grease a 9x13-inch baking dish.
Line the bottom of the prepared baking dish with biscuits.
Heat a large skillet over medium-high heat. Cook and stir sausage in the hot skillet until browned and crumbly, 5 to 7 minutes; drain and discard grease. Scatter sausage over biscuit layer and top with 1 cup Cheddar cheese.
Whisk eggs, milk, salt, and pepper together in a bowl and pour over cheese layer.
Mix water and gravy mix together in a saucepan; bring to a boil. Reduce heat and simmer until gravy is thickened, 1 to 2 minutes, adding more water for a thinner gravy. Pour gravy over egg layer. Sprinkle remaining 1/2 cup Cheddar cheese over casserole.
Bake in the preheated oven until egg is fluffy and cheese is bubbling, about 30 minutes.
Nutritional Information
Total Fat: : 52.2g
Saturated Fat: : 52.2g
Sodium: : 52.2g
Potassium: : 52.2g
Total Carbohydrates: : 52.2g
Dietary Fiber: : 52.2g
Protein: : 52.2g
Sugars: : 52.2g
Vitamin C: : 52.2g
Iron: : 52.2g
Niacin: : 52.2g
Magnesium: : 52.2g
Footnotes
Cook's Note:

For a little extra spice, add Tony Chachere's® Original Creole Seasoning to the egg mixture and/or the sausage while browning it.
Pioneer® Brand Peppered Sausage Gravy Mix is a great option for gravy mix.

Partner Tip

Reynolds® Aluminum foil can be used to keep food moist, cook it evenly, and make clean-up easier.