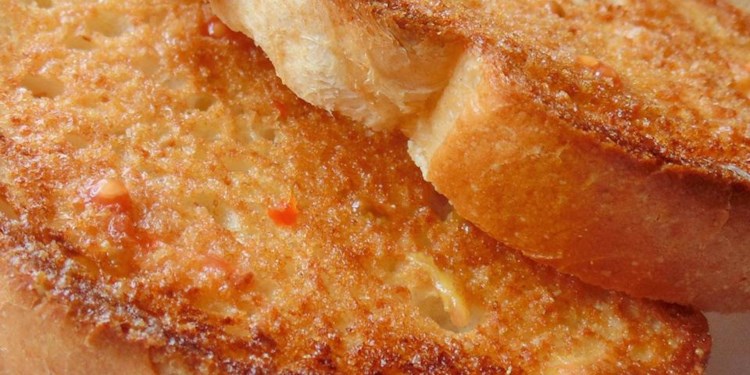 Spanish Garlic Toast
"When we lived in Barcelona we used to eat this all the time. Warning! Everyone has to eat this. If you don't the garlic smell will drive you out of the room. We bought a garlic jar in Spain for seasoning the garlic to make the taste a bit more concentrated. It's basically a ceramic jar with holes in the back to keep the garlic out of the light so it doesn't sprout, but the holes in the back allow the garlic to dry, in order to concentrate the flavor. It works fantastic and keeps garlic for 2 to 3 months."
Prep time: 10 Minutes
Cook time: 3 Minutes
Ready in 13 Minutes
Ingredients
1 (1 pound) loaf bread, thickly sliced
5 cloves garlic, peeled, or more to taste
1 fresh tomato, halved, or more to taste
1/4 cup extra-virgin olive oil, or as needed
salt and ground black pepper to taste
Directions
Set oven rack about 6 inches from the heat source and preheat the oven's broiler.
Toast bread slices until golden and crunchy, 3 to 5 minutes.
Rub toasted bread with garlic cloves until evenly covered; rub with cut side of tomato until evenly covered. Spread olive oil evenly over slices with a pastry brush or by hand. Season with salt and pepper.
Nutritional Information
Total Fat: : 11.9g
Saturated Fat: : 11.9g
Sodium: : 11.9g
Potassium: : 11.9g
Total Carbohydrates: : 11.9g
Dietary Fiber: : 11.9g
Protein: : 11.9g
Sugars: : 11.9g
Vitamin C: : 11.9g
Iron: : 11.9g
Niacin: : 11.9g
Magnesium: : 11.9g
Footnotes
Cook's Note:

Bread can be toasted in a toaster instead of under an oven broiler, if desired.

Partner Tip

Reynolds® parchment can be used for easier cleanup/removal from the pan.