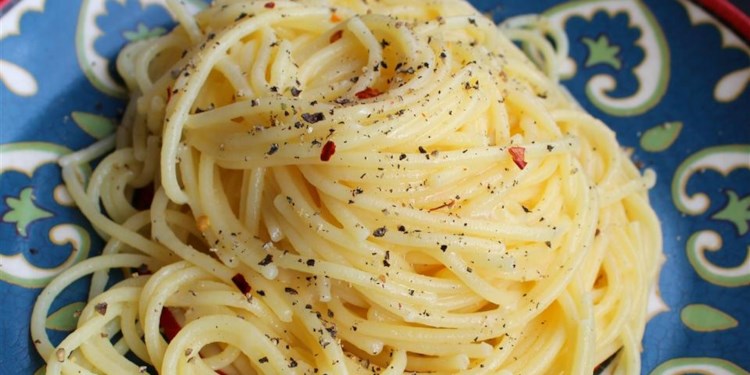 Spaghetti Cacio e Pepe
"This is a recipe that we have made in our family for many years--everyone loves it. It's a very basic and easy variation on mac 'n cheese."
Prep time: 5 Minutes
Cook time: 18 Minutes
Ready in 23 Minutes
Ingredients
1 pound spaghetti
6 tablespoons olive oil
2 cloves garlic, minced
2 teaspoons ground black pepper
1 3/4 cups grated Pecorino Romano cheese
Directions
Bring a large pot of lightly salted water to a boil. Cook spaghetti in the boiling water, stirring occasionally until tender yet firm to the bite, about 10 minutes. Scoop out some of the cooking water and reserve. Drain spaghetti.
Heat oil in a large skillet over medium heat. Add garlic and pepper; cook and stir until fragrant, 1 to 2 minutes. Add spaghetti and Pecorino Romano cheese. Ladle in 1/2 cup of reserved cooking water; stir until cheese is melted, about 1 minute. Add more cooking water until sauce coats spaghetti, about 1 minute more.
Nutritional Information
Total Fat: : 36g
Saturated Fat: : 36g
Sodium: : 36g
Potassium: : 36g
Total Carbohydrates: : 36g
Dietary Fiber: : 36g
Protein: : 36g
Sugars: : 36g
Vitamin C: : 36g
Iron: : 36g
Niacin: : 36g
Magnesium: : 36g
Footnotes
Cook's Notes:

Substitute butter for the olive oil if preferred. For a thicker or thinner sauce, adjust how much pasta water you add. If you add too much water, add some more cheese.
I have added other ingredients depending on my main dish to enhance flavors (like pancetta); I always experiment when creating food.