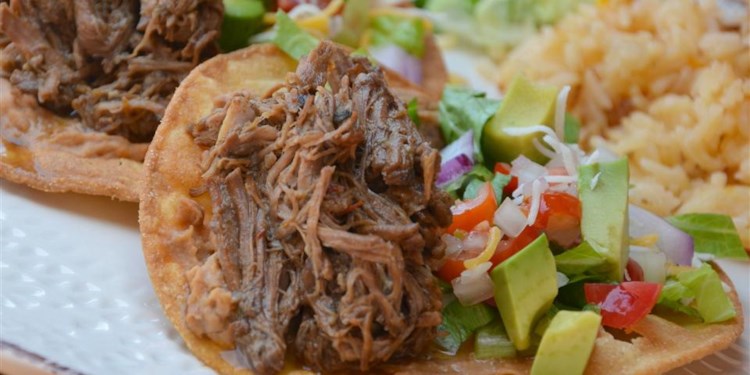 Barbacoa-Style Shredded Beef
"Similar to Chipotle's® barbacoa. Great over nachos, in tacos, and burritos."
Prep time: 25 Minutes
Cook time: 8 Hours 4 Minutes
Ready in 8 Hours 39 Minutes
Ingredients
1 (3 pound) beef chuck roast, cut into 6 to 8 chunks
salt and ground black pepper to taste
2 tablespoons vegetable oil
1/2 cup beef broth
1/4 cup apple cider vinegar
1/4 cup fresh lime juice
4 chipotle peppers in adobo sauce, chopped
5 cloves garlic, chopped
1 tablespoon ground cumin
1 tablespoon dried oregano
1/4 teaspoon ground cloves
3 bay leaves
Directions
Season beef chunks with salt and pepper on all sides.
Heat oil in a large skillet over medium-high heat. Add beef in batches; cook until browned, about 1 minute per side. Transfer beef to a slow cooker.
Combine beef broth, apple cider vinegar, lime juice, chipotle peppers, garlic, cumin, oregano, and cloves in a bowl. Season with salt and pepper and mix well. Pour over beef in the slow cooker. Stir in bay leaves.
Cook on Low until beef is fork-tender, 8 to 10 hours.
Discard bay leaves. Remove beef and shred using 2 forks. Return beef to the slow cooker to marinate in the sauce for at least 10 more minutes before serving.
Nutritional Information
Total Fat: : 22.9g
Saturated Fat: : 22.9g
Sodium: : 22.9g
Potassium: : 22.9g
Total Carbohydrates: : 22.9g
Dietary Fiber: : 22.9g
Protein: : 22.9g
Sugars: : 22.9g
Vitamin C: : 22.9g
Iron: : 22.9g
Niacin: : 22.9g
Magnesium: : 22.9g
Footnotes
Partner Tip

Try using a Reynolds® slow cooker liner in your slow cooker for easier cleanup.