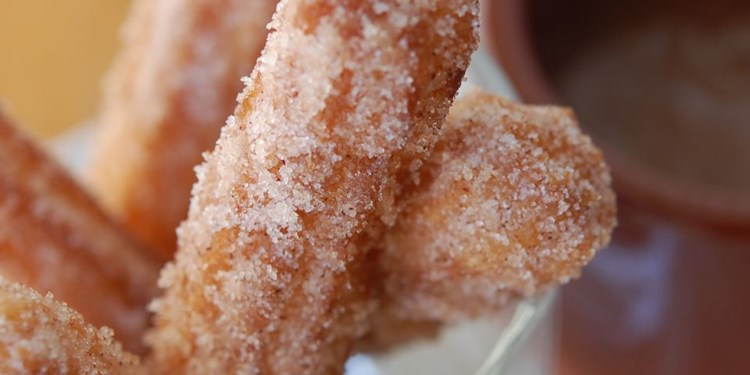 Churros
"These Mexican fritters are very common at fairs. In my border hometown, the line at this stand is always overwhelming. People wait hours in line just to get a taste of these churros. I have run across several recipes but this is the best one by far."
Prep time: 10 Minutes
Cook time: 10 Minutes
Ready in 20 Minutes
Ingredients
1 cup water
2 1/2 tablespoons white sugar
1/2 teaspoon salt
2 tablespoons vegetable oil
1 cup all-purpose flour
2 quarts oil for frying
1/2 cup white sugar, or to taste
1 teaspoon ground cinnamon
Directions
In a small saucepan over medium heat, combine water, 2 1/2 tablespoons sugar, salt and 2 tablespoons vegetable oil. Bring to a boil and remove from heat. Stir in flour until mixture forms a ball.
Heat oil for frying in a deep fryer or deep pot to 375 degrees F (190 degrees C). Pipe 5- to 6-inch strips of dough into the hot oil using a sturdy pastry bag fitted with a medium star tip. Do not overcrowd the oil. Fry until golden; drain on paper towels.
Combine 1/2 cup sugar and cinnamon. Roll drained churros in cinnamon and sugar mixture.
Nutritional Information
Total Fat: : 51.1g
Saturated Fat: : 51.1g
Sodium: : 51.1g
Potassium: : 51.1g
Total Carbohydrates: : 51.1g
Dietary Fiber: : 51.1g
Protein: : 51.1g
Sugars: : 51.1g
Vitamin C: : 51.1g
Iron: : 51.1g
Niacin: : 51.1g
Magnesium: : 51.1g
Footnotes
Editor's Notes:

We have determined the nutritional value of oil for frying based on a retention value of 10% after cooking. The exact amount may vary depending on cook time and temperature, ingredient density, and the specific type of oil used.
Keep the oil temperature consistently between 350 and 375 degrees F (175 and 190 degrees C) as you fry. If it gets too hot, turn off heat and let temperature drop down to that range.