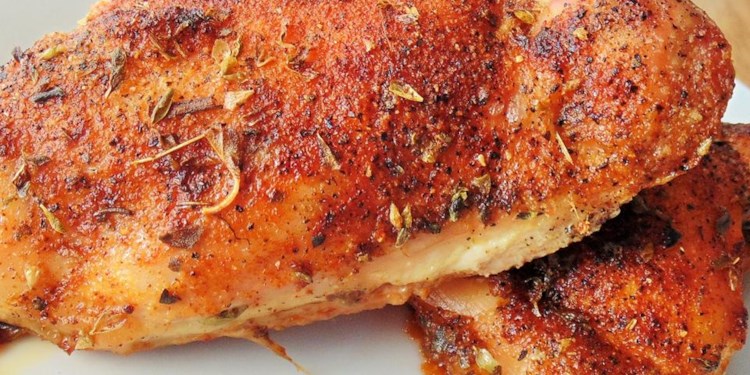 Sicilian Roasted Chicken
"I made up this one to resemble the rotisserie chicken I love so much. It is so expensive here, so here's my version."
Prep time: 15 Minutes
Cook time: 1 Hour
Ready in 1 Hour 15 Minutes
Ingredients
cooking spray
1 whole chicken, cut into 8 pieces
1 teaspoon salt
1 teaspoon ground black pepper
1 teaspoon ground paprika
1 teaspoon garlic powder
1 teaspoon dried oregano
Directions
Preheat oven to 425 degrees F (220 degrees C). Grease a 9x13-inch pan with cooking spray.
Arrange chicken pieces in the baking pan. Sprinkle salt, pepper, paprika, garlic powder, and oregano over both sides.
Roast in the preheated oven until chicken is browned and the juices run clear, about 1 hour. An instant-read thermometer inserted near the bone should read 165 degrees F (74 degrees C).
Nutritional Information
Total Fat: : 25.7g
Saturated Fat: : 25.7g
Sodium: : 25.7g
Potassium: : 25.7g
Total Carbohydrates: : 25.7g
Dietary Fiber: : 25.7g
Protein: : 25.7g
Sugars: : 25.7g
Vitamin C: : 25.7g
Iron: : 25.7g
Niacin: : 25.7g
Magnesium: : 25.7g
Footnotes