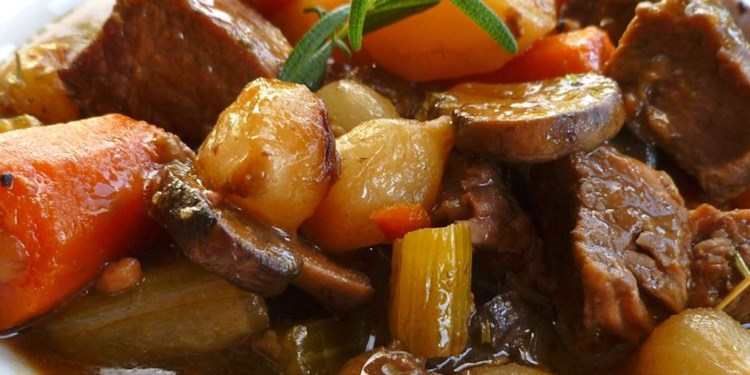 Beef Stew VI
"Thick beef stew good eaten from a bowl or poured over biscuits. Substitute lamb and voila!...Irish stew!! If thicker stew is desired, add more cornstarch and/or take cover off for last 15-20 minutes. The longer this simmers, the better! Vary the herbs to your taste."
Prep time: 20 Minutes
Cook time: 2 Hours
Ready in 2 Hours 20 Minutes
Ingredients
2 pounds cubed beef stew meat
3 tablespoons vegetable oil
4 cubes beef bouillon, crumbled
4 cups water
1 teaspoon dried rosemary
1 teaspoon dried parsley
1/2 teaspoon ground black pepper
3 large potatoes, peeled and cubed
4 carrots, cut into 1 inch pieces
4 stalks celery, cut into 1 inch pieces
1 large onion, chopped
2 teaspoons cornstarch
2 teaspoons cold water
Directions
In a large pot or dutch oven, cook beef in oil over medium heat until brown. Dissolve bouillon in water and pour into pot. Stir in rosemary, parsley and pepper. Bring to a boil, then reduce heat, cover and simmer 1 hour.
Stir potatoes, carrots, celery, and onion into the pot. Dissolve cornstarch in 2 teaspoons cold water and stir into stew. Cover and simmer 1 hour more.
Nutritional Information
Total Fat: : 21.2g
Saturated Fat: : 21.2g
Sodium: : 21.2g
Potassium: : 21.2g
Total Carbohydrates: : 21.2g
Dietary Fiber: : 21.2g
Protein: : 21.2g
Sugars: : 21.2g
Vitamin C: : 21.2g
Iron: : 21.2g
Niacin: : 21.2g
Magnesium: : 21.2g
Footnotes
Partner Tip

Try using a Reynolds® slow cooker liner in your slow cooker for easier cleanup.