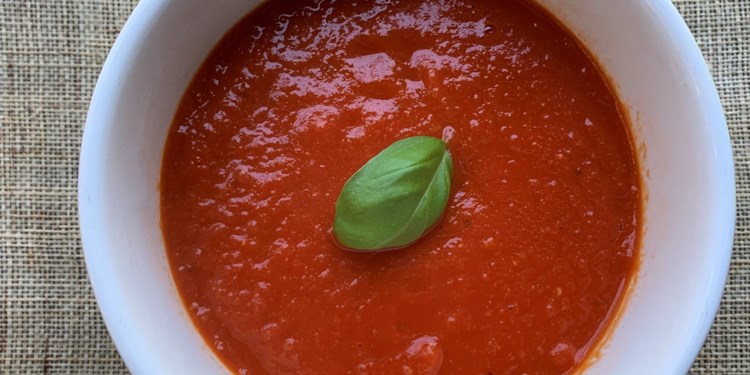 Simple Tomato Soup
"This is my go-to tomato soup recipe. It's so easy and delicious. It's easily made vegan (if you use margarine instead of butter or 2 tablespoons of olive oil), ready in 30 minutes, and I give leftovers to my kids for lunch. If you like, you can add cream, but my family likes it the way it is. I usually serve it with rosemary bread for dunking."
Prep time: 10 Minutes
Cook time: 20 Minutes
Ready in 30 Minutes
Ingredients
1 tablespoon unsalted butter or margarine
1 tablespoon olive oil
1 onion, thinly sliced
2 large garlic cloves, peeled and crushed
2 (28 ounce) cans whole peeled tomatoes
1 cup water
1 tablespoon sugar
1 teaspoon salt, plus more to taste
freshly ground black pepper to taste
1 pinch red pepper flakes
1/4 teaspoon celery seed
1/4 teaspoon dried oregano
Directions
Heat butter and olive oil in a large saucepan over medium-low heat and cook onion and garlic until onion is soft and translucent, about 5 minutes. Add tomatoes, water, sugar, salt, pepper, red pepper flakes, celery seed, and oregano. Bring to a boil. Reduce heat, cover, and simmer for 15 minutes.
Remove from heat and puree with an immersion blender. Reheat soup until warm and season with more salt and pepper if desired.
Nutritional Information
Total Fat: : 4.6g
Saturated Fat: : 4.6g
Sodium: : 4.6g
Potassium: : 4.6g
Total Carbohydrates: : 4.6g
Dietary Fiber: : 4.6g
Protein: : 4.6g
Sugars: : 4.6g
Vitamin C: : 4.6g
Iron: : 4.6g
Niacin: : 4.6g
Magnesium: : 4.6g
Footnotes
Cook's Note:

Use Italian San Marzano tomatoes for the best flavor.