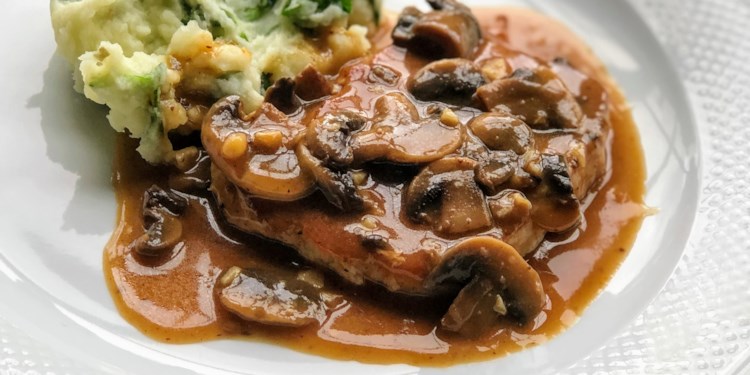 Pork Chops in Garlic Mushroom Sauce
"This recipe is my twist on a fancy restaurant meal we got on Valentine's Day. The recipe has half the amount of garlic than was originally used. Hope everyone else enjoys it just as much as we do. Garnish with fresh parsley, chives, or thyme leaves."
Prep time: 10 Minutes
Cook time: 20 Minutes
Ready in 30 Minutes
Ingredients
2 pounds boneless pork chops
1/2 teaspoon paprika
1 pinch kosher salt and ground black pepper to taste
1/4 cup butter, divided
1 (8 ounce) package sliced fresh mushrooms
4 cloves garlic, minced
1 teaspoon Dijon mustard
2 tablespoons all-purpose flour
2 cups beef broth
Directions
Season both sides of pork chops with paprika, salt, and pepper.
Heat a large skillet over medium-high heat; add 2 tablespoons butter. Sear pork chops until golden brown and no longer pink in the center, 2 to 4 minutes per side. Remove pork chops from the skillet and set aside.
Melt remaining butter in the same skillet over medium-high heat. Add mushrooms and cook until golden and excess moisture evaporates, about 5 minutes. Add garlic and mustard; cook until garlic is fragrant, about 1 minute.
Add flour to the skillet, stirring to remove any lumps. Slowly add beef broth, whisking until incorporated. Season with salt and pepper. Reduce heat to medium and simmer, stirring often, until sauce thickens, about 5 minutes. Check for seasoning again.
Return pork chops to the skillet and cook until heated through, about 1 minute. Serve hot.
Nutritional Information
Total Fat: : 13.4g
Saturated Fat: : 13.4g
Sodium: : 13.4g
Potassium: : 13.4g
Total Carbohydrates: : 13.4g
Dietary Fiber: : 13.4g
Protein: : 13.4g
Sugars: : 13.4g
Vitamin C: : 13.4g
Iron: : 13.4g
Niacin: : 13.4g
Magnesium: : 13.4g
Footnotes
Cook's Notes:

Use bone-in pork chops, or pork tenderloin, if preferred.
Use chicken or vegetable broth if desired. Replace butter with olive oil if preferred.