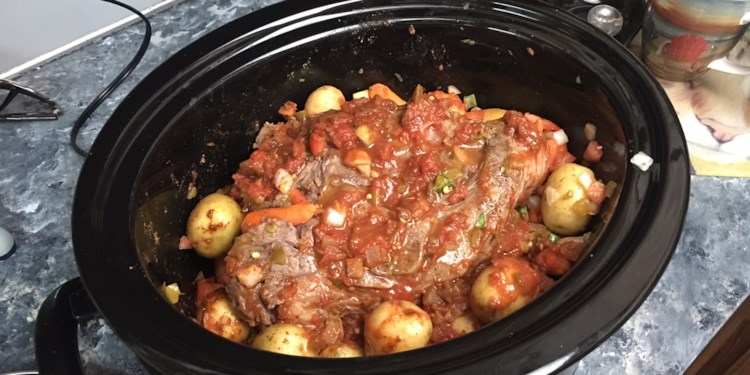 Baja Pot Roast
"This isn't Grandma's traditional pot roast. My Baja pot roast is a kicked-up combination of spicy chuck roast, potatoes, and baby carrots with pico de gallo, jalapeno, green chiles, and Southwestern spices that explode together with every bite. Serve as-is or with tortillas and sour cream."
Prep time: 10 Minutes
Cook time: 5 Hours 15 Minutes
Ready in 5 Hours 25 Minutes
Ingredients
1 (4 pound) boneless beef chuck roast
sea salt and ground black pepper to taste
3 tablespoons olive oil
1 (24 ounce) bag baby potatoes
2 cups baby carrots
1 1/2 cups pico de gallo
1 cup canned diced green chiles, drained
1/2 cup chopped jalapeno peppers
1 (1 ounce) envelope taco seasoning mix
1 tablespoon garlic pepper seasoning
1 teaspoon red hot sauce
1 teaspoon chili powder
Directions
Season chuck roast with salt and pepper on all sides. Heat olive oil in a large skillet over medium heat. Add roast and cook until browned, 3 to 5 minutes per side. Transfer to the slow cooker; set on Low.
Arrange potatoes, carrots, pico de gallo, green chiles, and jalapeno peppers around the roast. Sprinkle in taco seasoning, garlic pepper, hot sauce, and chili powder. Cover and cook until roast is fall-apart tender, about 5 hours.
Nutritional Information
Total Fat: : 15.4g
Saturated Fat: : 15.4g
Sodium: : 15.4g
Potassium: : 15.4g
Total Carbohydrates: : 15.4g
Dietary Fiber: : 15.4g
Protein: : 15.4g
Sugars: : 15.4g
Vitamin C: : 15.4g
Iron: : 15.4g
Niacin: : 15.4g
Magnesium: : 15.4g
Footnotes