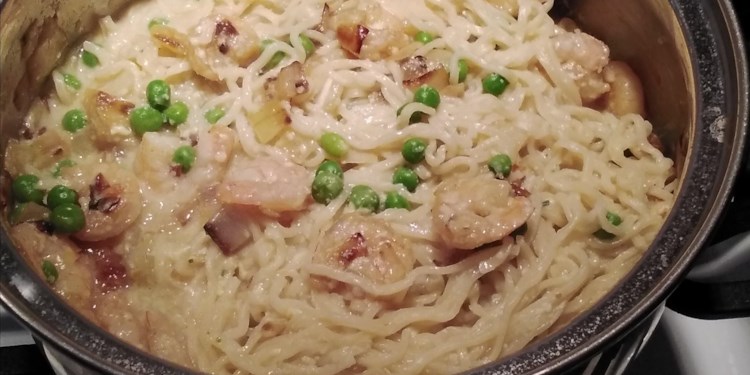 Ramen Carbonara
"Carbonara is known as a quick-to-fix meal, but get dinner done even sooner by using ramen instead of traditional pasta. Top with additional Parmesan if desired."
Prep time: 10 Minutes
Cook time: 10 Minutes
Ready in 20 Minutes
Ingredients
2 slices bacon, chopped
1/2 cup chopped onion
2 (3 ounce) packages ramen noodles (flavor packets discarded)
1/2 cup frozen peas
1 egg
1/2 cup shredded Parmesan cheese
1/4 teaspoon kosher salt
1 pinch red pepper flakes
Chopped fresh parsley
Directions
Cook bacon in a large skillet over medium heat until crisp, about 5 minutes. Transfer to paper towels to drain. Add onion to bacon drippings in skillet; cook until tender, 3 to 5 minutes.
Meanwhile, cook ramen in a saucepan according to package directions, adding peas the last minute of cooking. Reserve 1/2 cup cooking water; drain.
Whisk together egg, Parmesan, onion and drippings, salt, and red pepper in a bowl. Add hot ramen and cooked bacon. Toss to coat, adding enough reserved cooking water to make a creamy consistency. Top servings with parsley.
Nutritional Information
Total Fat: : 14.9g
Saturated Fat: : 14.9g
Sodium: : 14.9g
Potassium: : 14.9g
Total Carbohydrates: : 14.9g
Dietary Fiber: : 14.9g
Protein: : 14.9g
Sugars: : 14.9g
Vitamin C: : 14.9g
Iron: : 14.9g
Niacin: : 14.9g
Magnesium: : 14.9g
Footnotes
Cook's Note:

You can replace the egg with 1/4 cup refrigerated egg product if desired.