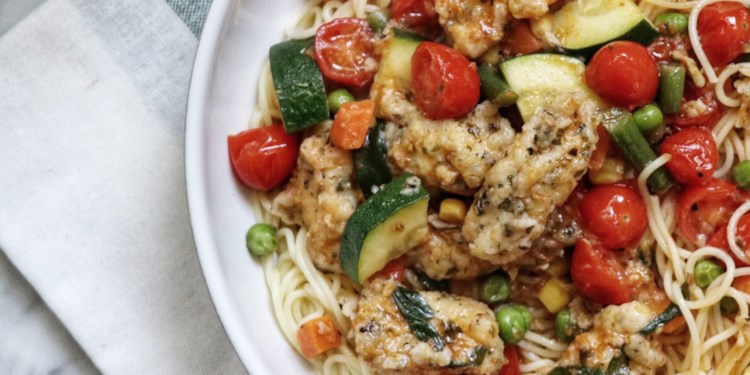 Easy Skillet Chicken Primavera
"Great served over noodles, spaetzle, mashed potatoes, or rice! Versatile recipe to suit your taste!"
Prep time: 20 Minutes
Cook time: 25 Minutes
Ready in 45 Minutes
Ingredients
1/2 cup all-purpose flour
1 tablespoon dried parsley
1 teaspoon dried basil
1 1/2 pounds skinless, boneless chicken breasts, cut into strips
1/4 cup extra-virgin olive oil
1 tablespoon minced garlic
2 1/4 cups low-sodium chicken stock
1 cup frozen mixed vegetables
1 pint grape tomatoes, halved
1 bunch green onions, diagonally sliced
1 medium zucchini, quartered and sliced
2 tablespoons sun-dried tomato pesto
salt and ground black pepper to taste
Directions
Whisk together flour, parsley, and basil in a medium bowl. Add chicken strips and toss until well coated.
Heat olive oil in a large skillet over medium heat. Add chicken and cook, turning occasionally, until lightly browned on the outside and no longer pink, about 10 minutes. Add garlic and cook for 1 minute.
Add chicken stock, mixed vegetables, grape tomatoes, green onions, zucchini, and pesto. Cook, stirring occasionally, until heated through, about 10 minutes.
Nutritional Information
Total Fat: : 13.3g
Saturated Fat: : 13.3g
Sodium: : 13.3g
Potassium: : 13.3g
Total Carbohydrates: : 13.3g
Dietary Fiber: : 13.3g
Protein: : 13.3g
Sugars: : 13.3g
Vitamin C: : 13.3g
Iron: : 13.3g
Niacin: : 13.3g
Magnesium: : 13.3g
Footnotes