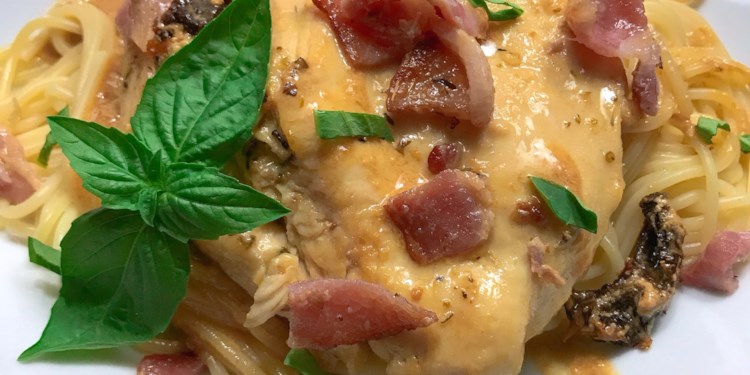 Marry-Me Chicken
"They say the way to a man's heart is through his stomach, and this chicken dinner is worthy of a marriage proposal!"
Prep time: 15 Minutes
Cook time: 20 Minutes
Ready in 35 Minutes
Ingredients
1 1/2 pounds skinless, boneless chicken breast halves
2 tablespoons butter
3 cloves garlic, minced
1/2 teaspoon dried oregano
1/4 teaspoon ground thyme
1/2 cup chicken broth, divided
1/2 pound bacon
1 (16 ounce) package angel hair pasta
1 tablespoon all-purpose flour
1/2 cup freshly shaved Parmesan cheese
1/4 cup whipping cream
1/4 cup chopped sun-dried tomatoes
1 pinch red pepper flakes
salt to taste
Directions
Preheat the oven to 350 degrees F (175 degrees C).
Place chicken breasts on a flat work surface. Slice horizontally through the middle, being careful not to cut all the way through to the other side. Open the 2 sides and spread them out like an open book to butterfly.
Melt butter in a large, oven-safe skillet over medium-high heat. Add garlic, oregano, thyme. Saute until fragrant, about 30 seconds. Add chicken and cook until golden brown but not fully cooked, 3 to 4 minutes per side. Pour 1/4 cup chicken broth into the skillet.
Bake in the preheated oven until chicken is no longer pink in the centers and juices run clear, about 15 minutes.
Meanwhile, place bacon in a large skillet and cook over medium-high heat, turning occasionally, until evenly browned, about 10 minutes. Drain bacon slices on paper towels and let cool enough to handle, about 5 minutes; chop.
At the same time, bring a large pot of lightly salted water to a boil. Cook angel hair pasta in the boiling water, stirring occasionally, until tender yet firm to the bite, 4 to 5 minutes. Drain and keep warm.
Remove skillet from the oven and transfer chicken to a plate, reserving juices in the skillet. Keep chicken warm and place skillet on the stovetop.
Whisk flour into the skillet over medium heat. Add remaining chicken broth, Parmesan cheese, and whipping cream. Whisk until combined. Add sun-dried tomatoes, red pepper flakes, and salt. Add bacon and chicken back into the skillet. Serve on top of hot cooked pasta.
Nutritional Information
Total Fat: : 19.5g
Saturated Fat: : 19.5g
Sodium: : 19.5g
Potassium: : 19.5g
Total Carbohydrates: : 19.5g
Dietary Fiber: : 19.5g
Protein: : 19.5g
Sugars: : 19.5g
Vitamin C: : 19.5g
Iron: : 19.5g
Niacin: : 19.5g
Magnesium: : 19.5g
Footnotes
Cook's Note:

You can use any kind of pasta that you'd like.