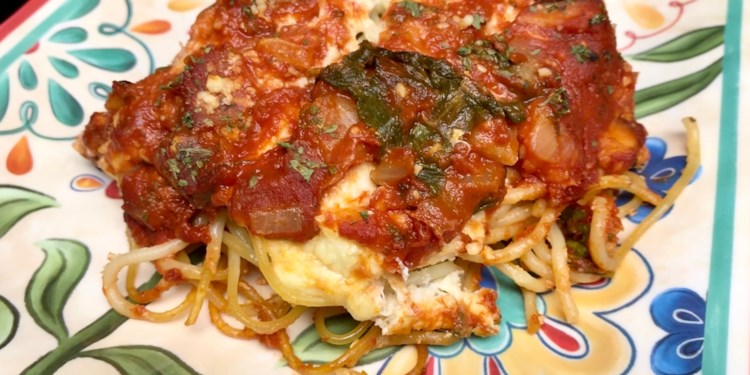 Spaghetti Lasagna Florentine with Crab
"A seafood pasta dish that is sure to please. Succulent, wild-caught lump crab mixed into a thick and creamy cheese filling and blended with a zesty marinara sauce."
Prep time: 30 Minutes
Cook time: 50 Minutes
Ready in 1 Hour 30 Minutes
Ingredients
1 (16 ounce) package spaghetti
2 tablespoons butter
1 (28 ounce) jar marinara sauce
2 cups fresh spinach
1 cup chopped onion
1 cup chopped fresh mushrooms
1 (6 ounce) can tomato paste
2 tablespoons minced fresh garlic
1 pinch cayenne pepper, or to taste
1 pinch dried parsley flakes, or to taste
sea salt and ground black pepper to taste
1 pound fresh lump crabmeat
1 (15 ounce) container ricotta cheese
2 cups shredded mozzarella cheese
1 1/4 cups grated Parmesan-Romano cheese blend, divided
2 large eggs
2 tablespoons clam juice
Directions
Preheat the oven to 350 degrees F (175 degrees C). Grease a 9x13-inch baking dish.
Bring a large pot of lightly salted water to a boil. Cook spaghetti in the boiling water, stirring occasionally, until tender yet firm to the bite, about 10 minutes. Drain, stir in butter, and set aside.
Combine marinara sauce, spinach, onion, mushrooms, tomato paste, garlic, cayenne, parsley, sea salt, and black pepper in a saucepan. Bring to a simmer, stirring occasionally, while you prepare the cheese mixture.
Combine lump crab, ricotta cheese, mozzarella cheese, 1 cup Parmesan-Romano cheese, eggs, and clam juice together in a large mixing bowl. Blend thoroughly together.
Spoon a light layer of sauce into the bottom of the prepared pan. Add a layer of spaghetti, followed by a layer of cheese mixture. Repeat until ingredients have all been added, making sure sauce makes up the top layer. Sprinkle with 1/4 cup Parmesan cheese.
Bake, uncovered, in the preheated oven until crab is pink and cheese is melted, about 35 minutes. Remove from the oven and let rest for 10 minutes. Serve.
Nutritional Information
Total Fat: : 17g
Saturated Fat: : 17g
Sodium: : 17g
Potassium: : 17g
Total Carbohydrates: : 17g
Dietary Fiber: : 17g
Protein: : 17g
Sugars: : 17g
Vitamin C: : 17g
Iron: : 17g
Niacin: : 17g
Magnesium: : 17g
Footnotes