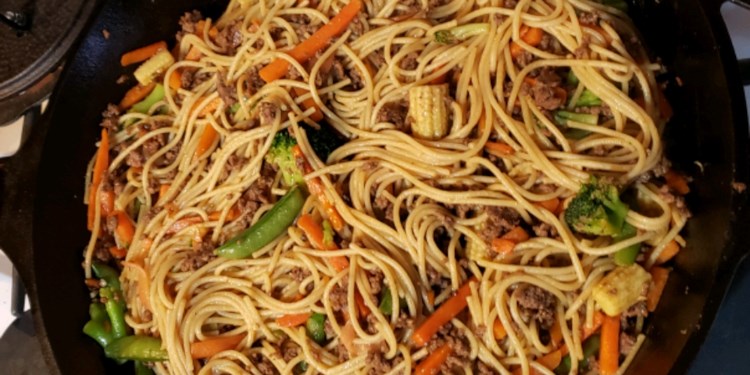 Ground Beef Lo Mein
"This is an easy, budget-friendly stir-fry meal. You can make the sauce in advance and refrigerate, which makes this even more suitable for a quick weeknight dinner. Feel free to customize the choice of veggies to your liking; this is just a combo that we enjoy."
Prep time: 20 Minutes
Cook time: 20 Minutes
Ready in 40 Minutes
Ingredients
6 ounces spaghetti
1 pound lean ground beef
Sauce:
3 tablespoons hoisin sauce
2 tablespoons reduced-sodium soy sauce
2 tablespoons oyster sauce
2 tablespoons water
1 tablespoon dry sherry
2 teaspoons sesame oil
2 teaspoons cornstarch
1 teaspoon brown sugar
Vegetables:
1 tablespoon olive oil
1 red bell pepper, cored and sliced vertically
1 sweet onion, peeled and sliced vertically
1 cup snow peas
1 stalk celery, sliced
2 teaspoons minced fresh ginger root
1 teaspoon minced garlic
1 pinch red pepper flakes (optional)
1 tablespoon thinly sliced green onion
Directions
Bring a large pot of lightly salted water to a boil. Cook spaghetti in the boiling water, stirring occasionally, until tender yet firm to the bite, about 12 minutes.
Meanwhile, cook ground beef in a large skillet over medium heat until browned and crumbly, but still a little chunky, about 5 minutes. Remove from skillet and set aside.
Whisk hoisin sauce, soy sauce, oyster sauce, water, sherry, sesame oil, cornstarch, and brown sugar together in a small bowl.
Heat olive oil in the same skillet over medium-high heat. Add red bell pepper, onion, snow peas, celery, ginger, garlic, and red pepper flakes. Stir-fry until the vegetables are tender, about 5 minutes. Return ground beef to the skillet and mix well.
Drain spaghetti and to the skillet with the sauce. Cook and stir until mixture is well combined and sauce has slightly thickened, about 3 minutes. Serve immediately and garnish with sliced green onions.
Nutritional Information
Total Fat: : 23.3g
Saturated Fat: : 23.3g
Sodium: : 23.3g
Potassium: : 23.3g
Total Carbohydrates: : 23.3g
Dietary Fiber: : 23.3g
Protein: : 23.3g
Sugars: : 23.3g
Vitamin C: : 23.3g
Iron: : 23.3g
Niacin: : 23.3g
Magnesium: : 23.3g
Footnotes
Cook's Note:

Use ground sirloin instead of lean ground beef, if desired.