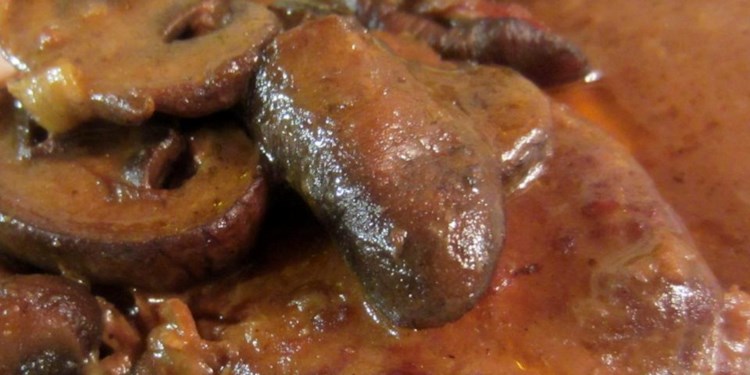 Steak N Gravy
"Try this one on for size if you love shrooms, otherwise omit them. This is my husband's favorite (and we eat game at least 3 nights a week). Serve with rice or mashed potatoes, and green beans. Now THIS is good eatin'!"
Prep time: 30 Minutes
Cook time: 1 Hour
Ready in 1 Hour 30 Minutes
Ingredients
4 (4 ounce) venison steaks
1 cup all-purpose flour
2 tablespoons ground bay leaves
1 pinch salt and pepper
4 tablespoons olive oil, divided
1/2 onion, chopped
6 fresh mushrooms, sliced
1 tablespoon minced garlic
1 (10.5 ounce) can beef gravy
1/4 cup milk
Directions
Cut all fat and gristle off the meat, and pound each steak out with a meat tenderizer until they are thin but not tearing. In a shallow bowl, combine flour, bay leaf, salt and pepper. Dredge steaks in the flour mixture until evenly coated.
Heat 1 tablespoon olive oil in a large heavy skillet over medium heat. Saute onions until soft and translucent. Stir in mushrooms and garlic, and cook until tender. Remove from skillet and set aside. Heat remaining oil, and fry each steak for 2 minutes on each side, or until golden brown. Return onion mixture to skillet. Stir in gravy and milk. Reduce heat, cover, and simmer for 30 to 40 minutes. Stir occasionally to prevent sticking.
Nutritional Information
Total Fat: : 18g
Saturated Fat: : 18g
Sodium: : 18g
Potassium: : 18g
Total Carbohydrates: : 18g
Dietary Fiber: : 18g
Protein: : 18g
Sugars: : 18g
Vitamin C: : 18g
Iron: : 18g
Niacin: : 18g
Magnesium: : 18g
Footnotes
Partner Tip

Try using a Reynolds® slow cooker liner in your slow cooker for easier cleanup.