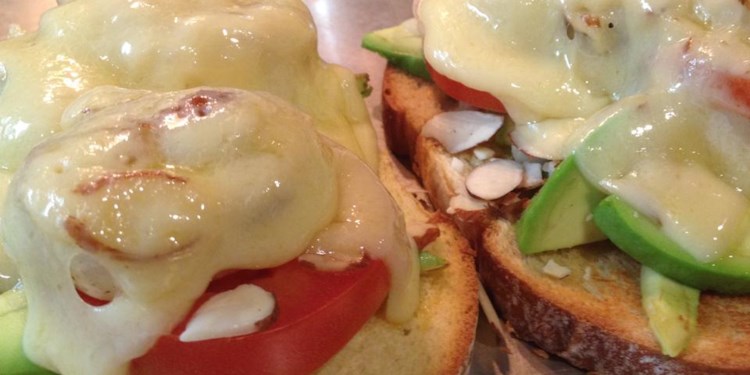 California Melt
"A satisfying open-face vegetarian sandwich with avocado, almonds and mushrooms."
Prep time: 15 Minutes
Cook time: 2 Minutes
Ready in 17 Minutes
Ingredients
4 slices whole-grain bread, lightly toasted
1 avocado, sliced
1 cup sliced mushrooms
1/3 cup sliced toasted almonds
1 tomato, sliced
4 slices Swiss cheese
Directions
Preheat the oven broiler.
Lay the toasted bread out on a baking sheet. Top each slice of bread with 1/4 of the avocado, mushrooms, almonds, and tomato slices. Top each with a slice of Swiss cheese.
Broil the open-face sandwiches until the cheese melts and begins to bubble, about 2 minutes. Serve the sandwiches warm.
Nutritional Information
Total Fat: : 22.5g
Saturated Fat: : 22.5g
Sodium: : 22.5g
Potassium: : 22.5g
Total Carbohydrates: : 22.5g
Dietary Fiber: : 22.5g
Protein: : 22.5g
Sugars: : 22.5g
Vitamin C: : 22.5g
Iron: : 22.5g
Niacin: : 22.5g
Magnesium: : 22.5g
Footnotes
Partner Tip

Reynolds® Aluminum foil can be used to keep food moist, cook it evenly, and make clean-up easier.

Editor's Note:

Please note the addition of a basil-mayonnaise (1/4 cup mayonnaise mixed with 1 tablespoon chopped fresh basil) if using the magazine version of this recipe.