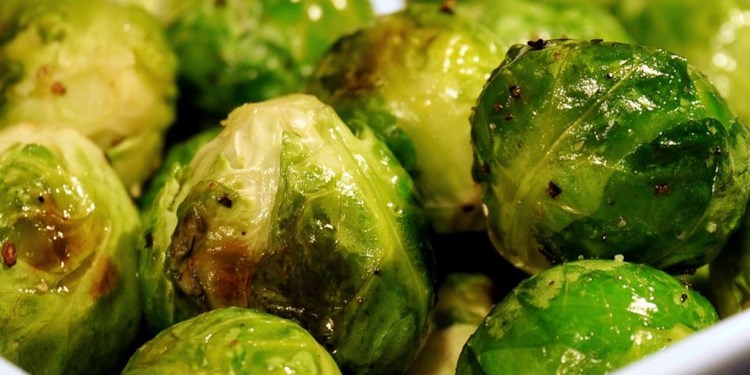 Roasted Brussels Sprouts
"This recipe is from my mother. It may sound strange, but these are really good and very easy to make. The Brussels sprouts should be brown with a bit of black on the outside when done. Any leftovers can be reheated or even just eaten cold from the fridge. I don't know how, but they taste sweet and salty at the same time!"
Prep time: 15 Minutes
Cook time: 45 Minutes
Ready in 1 Hour
Ingredients
1 1/2 pounds Brussels sprouts, ends trimmed and yellow leaves removed
3 tablespoons olive oil
1 teaspoon kosher salt
1/2 teaspoon freshly ground black pepper
Directions
Preheat oven to 400 degrees F (205 degrees C).
Place trimmed Brussels sprouts, olive oil, kosher salt, and pepper in a large resealable plastic bag. Seal tightly, and shake to coat. Pour onto a baking sheet, and place on center oven rack.
Roast in the preheated oven for 30 to 45 minutes, shaking pan every 5 to 7 minutes for even browning. Reduce heat when necessary to prevent burning. Brussels sprouts should be darkest brown, almost black, when done. Adjust seasoning with kosher salt, if necessary. Serve immediately.
Nutritional Information
Total Fat: : 7.3g
Saturated Fat: : 7.3g
Sodium: : 7.3g
Potassium: : 7.3g
Total Carbohydrates: : 7.3g
Dietary Fiber: : 7.3g
Protein: : 7.3g
Sugars: : 7.3g
Vitamin C: : 7.3g
Iron: : 7.3g
Niacin: : 7.3g
Magnesium: : 7.3g
Footnotes
Partner Tip

Reynolds® Aluminum foil can be used to keep food moist, cook it evenly, and make clean-up easier.